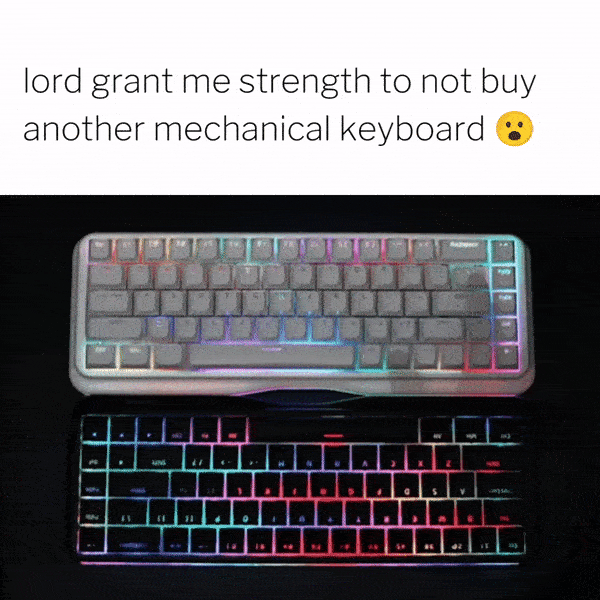 KEMOVE K68 Butterfly Mechanical Keyboard – The new KEMOVE K68 wireless mechanical keyboard launches on Kickstarter from $64.99! 😍
KEMOVE K68 is inspired by the butterfly, which means courage in many cultures. The courage of transformation, the courage of rebirth, the courage of love.
There is a romantic myth in China, called Liang Shanbo and Zhu Yingtai,
The couple is trying to break through the class Gap for their love.
Ultimately they stay together forever by becoming butterflies.
To be with each other, the couple needed to overcome the class gap.
Appearance
Sophisticated design in classic black and white. The design was inspired by butterflies, which led to the creation of Kemove's first ultra-thin 68-key keyboard. The independently encircled light strip is integrated. With Five sets of independent light strip lighting effects and 19 keyboard RGB lighting effects, K68 will create a rich visual feast for you.
PBT Low Ball Keycap(Designed by KEMOVE)
With the PBT two-color light-transmitting low-ball cap, K68 is the first keyboard with the best ergonomic low-ball cap. It is as thin as 1.6mm and as low as 6.34mm, providing a brand-new input experience.
Cherry & Gateron RGB Switch
Incorporating the world-famous Cherry &Gateron RGB switches, K68 provides the smoothest and most authentic mechanical using experience.
Silicon Gasket
The silicone gasket is made from imported high-quality silicone. The material of the silicone gasket used in K68 is strictly controlled at 40~55 degrees to achieve maximum noise elimination and noise reduction effect to improve your experience.
19 kinds of RGB Lighting Effects
With 19 gorgeous default onboard lighting effects and 5 novel RGB lighting effects of the light strip, K68 creates an immersive e-sports atmosphere together.
Hot-Swappable
K68 adopts the Hot-swappable function that 5pin is compatible with 3pin, which is compatible with 95% of standardized mechanical switches on the market. you can use the switch puller to easily replace more different switches. Different Switch, instant experience.
3 Ways to Connect
K68 supports wired, 2.4G, and Bluetooth connection modes.
K68 Bluetooth uses the high-speed chip of the American Broadcom Corporation, fast response to various wireless devices. K68 achieves a return rate of 1000hz in 2.4G mode, 0.8ms high-speed communication response, which brings you a faster gaming experience.
System Support
In order to meet the needs of the users, based on maintaining the original windows system, K68 develops the MAC system and IOS system. Therefore, it improves the experience for MAC and iPhone users.
Ps: Partly compatible with MAC and iOS.
Usage Scenarios
Not only for Gamers,
Also for Typing, Working, Editing video.
Support customization
As the driver of K68, Kemove control hub is easy to use. you can easily achieve the full key custom key change, key combination settings, and macro command recording settings through Kemove control hub .K68 also supports five groups of custom light settings. With 4 groups of profiles, it is easy to expand the possibilities of "infinite".