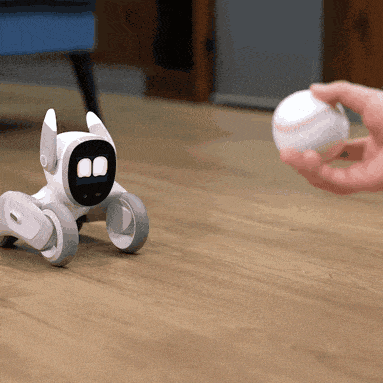 Loona is smart, intuitive, affectionate, and playful. Everything you can dream of in a best friend and more. Get ready to fall in love!
Loona is an incredible pet who happens to be a robot.
When you come home, she'll come quickly to welcome you. When you walk around, she loves to follow, and when you pet her, she'll be soooo happy.
She can have fun by herself- Loona sneezes, scratches, roams your home easily, and even investigates suspicious objects.  Loona can also beatbox, dance, and even pose for pictures. 
All in all, she just wants to be a part of the family. Can you say no to her?
With a high-definition RGB camera below her face and a CPU with up to 5 Tops of computing power, Loona sees you!
Loona can perform face recognition, body detection, gesture recognition, 3D motion capture, object recognition, emotion perception, label recognition, and more. Through her visual power, you and Loona have tons of fun interactions, such as her running after the ball and following you. You know, like a pet.
Loona can identify the sound source. Try calling her from behind and she will quickly run to you!
Powered by Amazon Lex, Loona is able to recognize and understand voice commands and provide feedback while keeping your information secure.
We will keep updating the voice commands as well as the interactive contents. All the updates are FREE, and there will be no subscription fees!
Loona has a 3D-ToF (time-of-flight) camera that detects environmental obstacles and generates data to help her move swiftly in the space and navigate in the environment. She can also integrate an RGB camera to capture and track moving objects.
With 3D-intelligent trajectory planning, Loona moves freely around the house.
Loona knows how to prevent herself from falling when an edge is near.
Using an RGB camera, Loona is able to detect motion and play fetching.
Loona has got six motors, and her wheels move with the help of two brushless servomotors.
Using her legs, ears and eyes, Loona has over 700 expressions. Here are some of them.
Loona can map the surrounding environment quickly and move in a 360-degree radius.
Loona can balance herself on two wheels! She can stand, roll over and even pop herself back up!
Loona loves to play. Turn on a laser pen and see her chase it, throw a ball and she'll fetch it, and you can always just lay something out of the ordinary in the middle of the room and watch her interact with it.
But she also has real games. On Loona's App, you can find tons of quizzes and charades to play with Loona. When it's her turn to play, Loona will raise the correct leg that corresponds with the answer. And don't worry if you win. Loona is not a sore loser, and she'll always want to play again.
Loona is enabled with tons of interactions and functions, but that's not all. Creators in the Kickstarter community are encouraged to engage in the creation process, designing more interactive features, games, and values of the products. We will also develop an SDK tool that can provide creators and makers with the ability to develop interesting content.
Loona has tons of ready-made interactions, but she can do almost anything if you teach her. Loona is fully programmable with a friendly drag-and-drop graphic programming interface. Kids are able to use graphic programming to learn. You can teach Loona new tricks while you learn a few of your own.
Not sure how to start? Built-in cases allow users to understand and directly get going quickly. There's also a substantial engaged community that shares ideas, videos and photos to get you inspired.
The App will be released in November 2022.
Through Loona's simulator and character editor, you can edit Loona's action, expression, voice, and interaction, from her various sensors. This just makes creativity simpler.
We're planning to release in June, 2023.
Wanna control other home devices through Loona? Or making Loona smarter through Home Assistant?
Loona is planning to support Home Assistant in April 2023.
We hope that Loona can provide developers with a powerful and interesting development platform. We plan to open Loona's SDK, so that users can flexibly apply various sensors, AI vision, and motion control from the underlying system.
We will do our best to develop as soon as possible, but the specific opening date has not been determined.
Loona is equipped with a camera and a speaker, so when you're away, You can monitor your home through Loona's camera.
Through Lax and KVS based on AWS, it supports more security standards and compliance certifications than any other offering, including PCI-DSS, HIPAA/HITECH, FedRAMP, GDPR, FIPS 140-2, and NIST 800-171 . It satisfies compliance requirements for virtually every regulatory agency around the globe.
Meanwhile, Loona uses a data encryption chip to protect user data and user privacy at the hardware level.
And if you have another pet, Loona would love to keep it company. Loona can connect you with your pet from afar.
For the initial setup, Loona requires an App. After setup, Loona can work without the App. Loona has powerful offline processing ability and it is not dependent on the App. Most interactions can be generated without the App, but there are more interesting functions on our App.
Loona regularly receives over-the-air (OTA) software updates that add new features and enhance existing ones over Wi-Fi. Get ready to see Loona grows day by day!
We provide OTA updates to Kickstarter backers for FREE, and you do not need to pay for subscription fee.
The cost of Christmas shipping will sum up to $65 with the standard shipping fee originated from your order.
Please add the Christmas Delivery Add-on according the number of Loona you purchased as the shipping cost differs.
**Loona can be at your doorstep before Christmas! But it's up to you- Once the campaign is successfully funded and ends on Oct 30th, we will be sending out the post-campaign survey 2-3 times to collect backers postal information. Christmas delivery is only guaranteed under the circumstance that Backers fill out the post-campaign survey before Nov 28th.
If you failed to provide the address before Nov 28th, please email us at [email protected] for a refund of the extra shipping cost.
** Flat shipping rate
US $10, EU $25 (Tax Included)
Rest of the world $35 (Tax not Included)
Loona's charging dock is her home. She automatically goes back when she needs to re-charge her energy.
You can add Loona's charging dock to your order and enjoy the biggest Kickstarter discount to receive it before April 2023.
**Note: Loona's charging dock will be shipped separately from Loona, and we will cover the shipping cost of your charging dock.
KEYi Technology is an innovative robotics company with competitive design and product development capabilities. With core team members from international research institutes, universities, and companies such as Samsung and Intel, KEYi owns two main products, Cell Robot and ClicBot.
KEYi Tech is devoted to developing Human-Machine Interactions. By combining Artificial Intelligence and product design in the most volatile forms, KEYi wants to encourage more people to participate in the process of imagining and creating robotic friends that provide them with interactions and learning experiences. We strive to build a life-connecting robot to inspire and create brilliant, long-lasting moments.
"We were founded under the idea that consumer robotics plays an important role in family life, now, and in the future. We dreamed of a better robot that people of all ages and creeds could learn from and grow with." ——Jianbo Yang
In 2020, over 1,700 Kickstarter backer backed us on ClicBot .ClicBot is a robotic platform built by intelligent robot modules. You can not only experience dozens of pre-defined robots, but also experience tens of thousands of user creations in the community. And most importantly, you can create your own robots. We have built ClicBot into a creative community, generating more than 10,000 robots created by users per month, with a total of nearly 20K users.
In ClicBot's user feedbacks, we see that BIC, a small mobile robot, which is frequently used by a lot of children. Although there is not much content to interact with, children also like it. We see the charm of human-computer interaction . We hope to be able to create an alive robot, with agile and flexible action, but also need to combine technology and art design, which will bring rich human-computer interaction to users. We hope to be able to realize everyone's imagination which is to have a robot partner like Wall-E™ or R2D2™ for many years, although it is not easy.
We want Loona to be wise and useful with rich interactions and unlimited gameplay. The improvement of embedded chip processing capability gives us a chance to let Loona run AI visual algorithm and conduct multi-sensor fusion to perceive the environment and human body offline. We integrate various perception methods including face, human body, body movements, expressions, gestures, objects, environment, etc. We hope to open more interaction methods through technology to make robots become intelligent.
We hope Loona has a sense of life, we have designed many cute little characters in ClicBot which make us feel that if art design can be integrated with technology, it will have a strong power. Engineering and technology enable Loona to have good motion performance. Through cutting-edge control algorithms, we have reached almost the maximum performance of the current hardware, which makes the action more agile and smooth. Artists from the animation industry make these hardware devices move flexibly and give them life through interesting art design.
Welcome to join us: [email protected]
Creative work on the campaign done by Asi Gal
This project is promoted by Jellop, the ad tech power behind the best Kickstarters with 2,800+ successful Kickstarter projects with over $900M raised between them.
Risks and challenges
As with any technical product, there are risks and challenges. However, we are very confident in our ability to deliver a high-value product to all our backers on time. Loona is a product of lots of testing and research, and our very capable team has been working on it vigorously for over 24 months. We've spent lots of time and effort in perfecting our production line, and we've decided to offer Loona to you only after assuring it measures up to our standards. We can't wait to get it to all of you.